For my job, I sometimes get to cook with adorable little people. Sometimes, I get to cook with 100 adorable little people at. the. same. time. Making tasty recipes like this Crunchy Asian Slaw. Yup. 100 Kids. At once. Making slaw. This really happened.
As a FoodCorps site supervisor, I get to work with two amazing FoodCorps service members for 11 months a year while they help spread the healthy eating, veggie growing, learn to cook love with public school students here in Charlotte, NC. Once in a while, one of my service members comes to me with a crazy idea. So crazy that it's sure to be fun. Or dangerous. But mostly fun. A couple of weeks ago, one of our service members came to me and said, "So, we are going to be having a SLAW-OFF with the fifth graders." A slaw-off – kind of like a cook-off except they'll only be making slaw? Bingo. Slaw heaven. I was sold. What a great idea. I envisioned a couple of sessions of students – maybe 2 or 3 classes at a time making their slaws and going head to head for the prize of the golden cabbage.
Not so fast.
She followed up with, "And the teachers really want ALL the fifth graders to do this at the same time." What the what? 100 fifth graders making slaw simultaneously? Back to that previous note about danger… Hmm… I was a little bit worried. Would we even have enough equipment to have 100 kids prepping slaw at the same time? (The answer to that was nope… thank goodness for Amazon.)
To do a dry-run and work out any kinks, we tested out two of the recipes on a few different groups of teachers attending a weekend workshop. So much fun empowering teachers to cook with their own students! For one morning, we worked through these slaw recipes with teachers from all grade levels and shared some tips and tricks for cooking with kids in the classroom.
Although we successfully ran three teacher workshops using the same recipes, the slaw mania idea really didn't see any less crazy as the big day approached. Thankfully, as 100 10 year olds piled into the cafeteria, they were followed by their teachers, a principal, a dean of students, some fabulous folks from the health department, and a couple of community volunteers. As the students dispersed to the stations set up at the long cafeteria tables around the room, we quickly assigned every available adult to a table and a small group of students.
With 45 minutes to complete three slaw recipes – including our crunchy Asian slaw – have a taste test, and then vote, we knew that we had to keep the party moving. To make the best use of our time, and the large number of students cooking, we divided the three slaw recipes into different components. Because we were using federal school lunch / cafeteria-friendly recipes, each recipe served 40 to 50 people and were close to following the guidelines that school nutrition staff need to follow when deciding on menu items.
We needed pound upon pound of apples peeled, carrots chopped, and cabbage grated. For each recipe, we also assigned a team to make the dressing. These small groups were able to work well to get their ingredients grated, chopped, or minced, and ready to add to combine with the remaining ingredients. The dressing group kept tabs on the process and was ready to combine everything and do the final ingredient adjustments after they saw (and taste tested) the final product.
After doling out 300 tasting cups of slaw, the Crunchy Asian Slaw was the top vote getter in the end. This Slaw-Off was the perfect way to kick off a year-long nutrition curriculum and really helped students take a closer look at what our lunch ladies have to work with in terms of sugar, fat, and salt restrictions in the recipes. The director of Child Nutrition Services has promised to visit us for the next big cooking adventure and she might even use one of the kid-selected recipes… Stay tuned for details!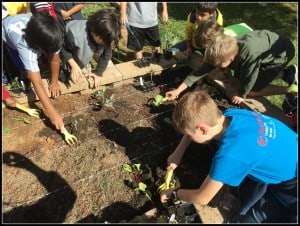 If you are looking for a great resource for school lunch menu items and more recipes like this one, definitely check out the FREE resource from the Vermont FEED program (www.vtfeed.org). Although the Crunchy Asian Slaw was the winner this time, all of the recipes were really tasty! For more information on FoodCorps, be sure to check out www.foodcorps.org
Enjoy!!
Kids Cook Monday: Crunchy Asian Slaw
This recipe serves 40 to 50 people - perfect if you are feeding a crowd. I have successfully cut this recipe into 1/4s to make a slaw that only serves 10. This recipe is from New School Cuisine Cookbook from Vermont FEED
Ingredients
6

pkgs ramen noodles

1/2

cup

sunflower seeds

2

Tablespoons

vegetable oil

1

small green cabbage

1

small red cabbage

1

small Napa cabbage

1

lb

carrots

1

bunch scallions

2/3

cup

rice vinegar

1/2

cup

sugar

1/2

cup

low-sodium soy sauce

1

teaspoon

sesame oil

1/2

teaspoon

black pepper
Instructions
Preheat oven to 375 degrees.

Discard flavor packs. Crumble ramen noodles into a large bowl. Add sunflower seeds and vegetable oil. Stir to coat. Spread mixture evenly on a non-stick cookie pan or on a pan lined with parchment paper. Bake until browned, stirring once or twice, 3 to 5 minutes. Set aside to cool. (This can be done a day ahead.)

Quarter and core cabbages. Slice the cabbage quarters in a food processor OR have students shred cabbage using box graters.

Trim and peel carrots. Shred in a food processor OR have students grate carrots using box graters.

Trim scallions and finely dice. Have students snip the scallions into tiny pieces using kid-safe scissors.

Combine cabbage, carrots, and scallions.

Whisk vinegar, sugar, soy sauce, sesame oil, and pepper in a small bowl until the sugar is dissolved.

Just before serving, toss the salad with the dressing and the ramen noodles.