How to plan a last minute trip to Disney World might seem like a pretty far-fetched travel idea. Last minute? To Disney? No way. There can be a lot of pressure surrounding Disney trips and probably with good reason – it's far – for most of us – and it's expensive. This past December, I was on the fence about taking three of my littles (ages 4, 9, and 11) to Disney on a last-minute adventure while my husband was busy at a conference in Orlando. He wasn't staying on a Disney property, but he was staying at an Orlando hotel and that empty hotel room was calling my name. At the 11th hour, I pulled the trigger and we had a blast. Late planners, no planners … you can do it! 🎉
The Disney Stars Aligned
One of the deciding factors for me was the ability to fly to Orlando. We usually drive – it's only 8 hours, but I wasn't really craving a road trip immediately after our Thanksgiving travel. The Disney gods clearly wanted us to visit because, one week before our trip, I found inexpensive round trip flights ($104!) on American Airlines, direct from Charlotte to Orlando. Cheap flights plus an Orlando hotel room made it really seem like this trip was meant to be. So, no, we didn't stay onsite but, yes, it was already paid for so I was willing to make it work. Staying offsite was definitely no big deal. I rented a car (also inexpensive) and easily drove to the parks each morning. I always arrived early enough to park close enough to WALK to the entrance. I am TEAM NO TRAM because of my stroller.
Bring a stroller! 
While we are on the topic of strollers – bring a stroller! You might think your kids are too big, too old … but Disney is exhausting and you will be happy your little ones have a place to rest and you have a place to store water bottles and snacks.
Our Disney Park Tickets
During the time we were planning to visit, Disney had a four ticket package. Four days – one park a day – to be used over the span a week. For the four of us, I paid about $1400. We didn't do any dining plans. No memory maker photos. I bought the tickets on a Sunday for us to go to our first park Tuesday. I consulted a couple of different websites to get a feel for which day was predicted to be the busiest based on specific hours, special events, etc. Monday is always the busiest day for Magic Kingdom, for example, so we were happy to avoid that day.
I like the resources on Undercover Tourist and consulted their Disney crowd calendar to check on which day was best to visit which park.  I really wanted to start with the Magic Kingdom. To me, growing up, Disney World equaled the Magic Kingdom. I never went to Disney as a kid so I didn't even know there was more than one park. When I was an adult and finally got a chance to go to Disney, people were asking, "Which park are you going to visit?" And I was like, "DISNEY!" You can imagine the conversation after that point. Now I know! But I still think Disney = Magic Kingdom and I really need to start the week off with a big castle.
Day One: Magic Kingdom
It worked out that the first day we were set to start our Disney adventure was the best day to visit the Magic Kingdom. The day we were visiting, the Magic Kingdom was hosting one of its special Mickey's Very Merry Christmas Parties. To stay past 6 pm, you need to have paid for a special party ticket. I love my kids, but not that much. During special events, crowds might be lighter during the day because the park closes earlier for guests without an evening ticket. Going to a park on a day with shorter hours might seem counter-intuitive, but for us, it worked. I knew that my Camp Brighton team would only last so long so I preferred to hit a park with lighter crowds and shorter hours and try to cut down on wait times to get a lot accomplished and then head home and go to sleep. I really do think the crowds were much lighter in the morning due to the event happening at night. After lunch, the place got exponentially busier, but we were pleasantly surprised by our quiet morning.
The night before our big day, I made a last-minute breakfast reservation for Be Our Guest at 8:45 am. This is a very important MAGIC KINGDOM EARLY ARRIVAL HACK. We left our hotel by 7 am, (drove through the Dunkin drive-thru to get mama her coffee), arrived at the park at 7:30, WALKED to the main Magic Kingdom ticket window with proof of our ticket purchase, the credit card I used to by the tickets, and my license. (This place is no joke. Be prepared with all the identification.)
I was also persuaded by my kids to buy Magic Bands (my kids begged for them – $15 each for the simple colors) when we got our tickets. When you get your tickets, you will get a card with your name on it to be used to scan for fast passes, etc. even if you choose to buy a Magic Band. I highly recommend them! I was happy this was something I didn't need to pre-order and could just pick up at the park. Wearing the Magic Bands made scanning in for FastPasses so easy. I kept the swipe cards in my bag as a backup in case we lost a magic band which, of course, we did.
After getting Magic Bands secured on little wrists, we caught the tram to Magic Kingdom and were there at 8:15 am – well ahead of the 9 am opening. We casually walked down Main Street, took a few pictures while there was literally no one there and followed the signs for Breakfast check-in. I had ordered two kids meals online on the Disney app – crepes with bottled water – and checked in by 8:30 am. Please, please, please – order online. You will get put in a much shorter and quicker line and your food will magically appear almost as soon as you get to your seat. No waiting.
Need Gluten-Free? Be Our Guest!
When I checked in to Be Our Guest, I asked if I could get gluten-free pastries with one of the crepe orders and it was absolutely no problem. There was no way to make an allergy request on the app, but it was no problem at all. The host took us to our table and quickly brought our food and brought regular pastries AND two plates of gluten-free breakfast breads – three kinds of GF bread on each plate. Delish. I ate one piece and wrapped the other five up to enjoy later. No shame in my leftover game. I only wish I had brought a Ziploc bag.
Priority: Seven Dwarf Mine Train
I popped the bottled waters under my stroller and got the kids some orange juice from the self serve drink station. Two orders of crepes were more than enough for my three kids. We were out of Be Our Guest by 8:55 am and hustled over to the Seven Dwarfs Mine Train roller coaster where we walked right into the stand by line at exactly 9 am, wound our way through the cavernous walkway to the ride and hopped on! The wait was 75 minutes by the time we got off the ride. Such a win! Such an awesome way to start the day!
Planning Your Day at Magic Kingdom
I used the Touring Plans website to help me with the timing at Magic Kingdom (and the other parks) and it was pretty useful. Touring Plans is a paid service. When I purchased it, it was $15.95 for the year and it does not renew automatically. You can put their app on your phone and check it as you walk around the park. Before you get to the park, it will organize all the rides you want to go on and arrange them in the best order for you. As you complete a ride, check it off and reshuffle your list.
While we walked around and checked our progress, I switched between the Disney app which showed wait times at all of its rides and a great map, and the Touring Plans app which also showed wait times – both sets of wait times were accurate. Both apps were very useful. Since we were so late to buy tickets, fastpasses were not so helpful for us. We were able to strategically get a few fastpasses throughout the day and we rode everything we wanted to ride – for the most part. We never got to ride Peter Pan or It's A Small World because the waits for those rides were out of control in the afternoon and we were committed to waiting in zero lines. Next time!
Character Visits? Meh. 
We did just a few character visits. I thought my four year old would be more into it, but he wasn't. We grabbed a couple of signatures of characters we saw wandering around the park and Noelle really wanted to wait in line for Minnie Mouse and Daisy Duck but, other than that, we didn't pursue characters at all. I think it really depends on the kids! When we visited Disney when the twins were four, they wanted to see every single character!
Don't Visit Magic Kingdom Hangry!
When the Christmas parade started at 2 pm, we watched it for a few minutes and then hustled over to Space Mountain and Tomorrowland Speedway because those waits went way down while people were watching the parade. We ordered lunch online at Ray's using the Disney app and it was so convenient to just walk in and pick it up. We never order a full meal for each kid – we ordered a kid's meal and an adult meal and the four of us split it. Since I am the adult, I get the fountain drink – of course. Sweet tea, pretty please.
I never felt like we were paying too much for food and I always felt like we had enough to eat. We bought a large pack of individually bagged chips at a Walgreens near our hotel and some granola bars and those were our daytime snacks if anyone started to get hangry. We brought four bags of chips each day and a few granola bars. At Magic Kingdom, it was freezing on Tuesday but we still had to get a dole whip. 😋I am all about the SNACKS when I visit Disney. 
For our day at Magic Kingdom, the weather was cool – almost cold – and the crowds really picked up in the afternoon as people were arriving for the party. The woman at the ticket window in the morning told us to try to stay until Elsa froze the castle at 6:15, but we just couldn't hang. We left by 6 pm, avoided the long wait for trams back to transportation and parking and took the ferry instead. It was so pretty to watch the castle lit up as we headed back to reality. Everyone slept well after our full day!
Day Two: Hollywood Studios
We decided to visit Hollywood Studios on the day before the new Star Wars ride (Rise of the Resistance) was set to open. We knew we weren't committed enough to brave the crowds on opening day. However, in spite of the fact that the new ride wasn't open yet, there were a lot of VIPs and press people walking around with big name tags, and distinctive lanyards clearly at Hollywood Studios for some of the ride preview events.  It was still pretty busy! Hollywood Studios opened at 9 and we arrived at 8 along with A LOT of other people. We entered and I asked a crew member where to sign up for Jedi Training and was told that I couldn't do that before the park opened. What!? Thankfully, I knew that she was wrong.
No FastPass+? No Problem. Just run. 
I kept walking down the main entrance road of Hollywood Studios and we turned left at Hollywood Boulevard heading toward Echo Lake and easily found the signup for Jedi training. We headed back to the growing crowd for the rope drop. There were A LOT of people there by 8:15 and the crowd kept getting bigger – like all the way back to the entrance by 9! Rope drop was very cool – appropriately a Star Wars-themed experience – we heard loud marching music and Storm Troopers came around the corner to lead us into the park. I wouldn't expect any less from Disney! Our first objective for our trip to Hollywood Studios was getting on the Slinky Dog Roller Coaster without waiting for an hour or more! As soon as those stormtroopers started leading us into the park, my 9 and 11-year-olds ran ahead of me and headed straight to Slinky Dog Roller Coaster. Their hustle paid off. They were the third car to go.
Toy Story Is Still The Best
My little guy and I were a little bit behind them but we waited less than ten minutes to get on the ride. The line was easily over an hour by the time we got off the ride. 😳 We headed directly to Toy Story next and the posted time was 25 minutes but we waited for less than 15. We all loved the Toy Story ride so much and were excited to see the Toy Soldiers marching as we exited the ride. We were only able to get a FastPass for Alien Saucers in the morning so we did that ride and then headed to Galaxy's Edge to check-in for Jedi Training. I was surprised by how much we all enjoyed Alien Saucers, but Toy Story is still the best!
Jedi Training? Do Or Do Not. There Is No Try.
Jedi Training was a big hit with all of my kids. My 11-year-old was definitely the oldest one there. My four-year-old is still talking about it. Everyone thought it was well done. I highly recommend. It was even fun for the parents to watch. Previously, when there was less to do for Star Wars fans at Hollywood Studios, the Jedi Training spots filled up quickly. Now, when we went back to check in around lunchtime, I saw parents signing their children up for times later in the day. I liked Jedi Training as an activity for the kids for lots of reasons, but I really love that it's free. The kids could build droids ($100) or lightsabers ($200), but that would have sent my Disney budget off the rails. The most expensive souvenir I let my kids buy this trip was a Disney Christmas bow for Noelle's hair ($13).
Explore Galaxy's Edge
We wandered around Galaxy's Edge – it doesn't even feel like you are in Hollywood Studios – snacked on popcorn (buy a refillable bucket to use all week long!), and made the decision to get in line for Millennium Falcon. The posted time was 75 minutes. We ordered two blue milks online from The Milk Stand using the Disney app to enjoy with our popcorn (sharing! Of course. 😂) and it totally lived up to the hype. We did not try the green milk – next time.
Hello? Single Rider Line? 
We waited in line with the stroller as the line crept around outside of the Millennium Falcon behemoth ride structure and then, when we finally got to the indoor entrance, we realized there was a single rider line! What?! A quick decision was made to send the older kids alone and I stepped out of line to wait with the four-year-old. Best decision ever. No 75 minute wait. Super quick in the single rider line. My 9 year old even did it twice. I got to ride while the 11-year-old watched the baby. I honestly got nauseous so I'm happy I didn't wait an hour to make myself sick. 😂
Don't Forget The Traditional Rides!
We were finally able to make better use of FastPasses in the afternoon to get on the Tower of Terror and Rock N Roller Coaster. We ate more popcorn. The four-year-old napped – yay for the stroller! Everyone was happy. Somehow we also squeezed in a Frozen sing-along (using a Fastpass) and a Disney Junior dance party earlier in the day. Because of the way the FastPass+ system works, I signed all four of us up for Disney Junior dance party but just scanned in the big kids' magic bands while they were doing something else so I could request new Fastpasses for other rides. It was definitely a bit of a pain that you had to complete one ride and two shows before you could request anything else but we made it work. We all finished our day tired and happy – there was nothing else we wanted to do. As we slowly walked out, I promised my kids a return trip to experience green milk and the Rise of the Resistance.
Day Three: Epcot
On Thursday, we visited Epcot – they opened at 8, so we got there just before 8 and it was easy peasy to walk through security and head straight to the World Showcase and find Norway to ride the Frozen ride since, as usual, we didn't have a FastPass. Much to our excitement, there was no wait! The only downside to the Frozen ride was that we are pretty sure that this is where Keegan dropped his magic band into the water – never to be seen again.
We felt like we used fastpasses well this day at Epcot. I finally learned how to modify Fastpass times by repeatedly clicking on time options on the Disney app until one popped up that I liked. (At Animal Kingdom, we learned to only look for two FP's at a time to increase our chances of finding some.) Slowly, but surely, we caught onto some new tricks!
After riding Frozen, we bought coffee and some breakfast muffins and slowly walked back through the Showcase Plaza toward The Land. We had a FastPass for Soarin at 8:25 and headed to that when we finished Frozen. Soarin was awesome. It was just as amazing as I remembered it when the twins were little. Everyone loved it. After Soarin, we waited in line for the LAND boat ride for about 20 minutes, but the line moved pretty quickly and the boys didn't fight too much so I considered that a win. I don't mind waiting a little for a ride that's longer than 60 seconds. We all enjoyed the LAND boat ride – it was relaxing and informative.
Epcot FastPass+ Lessons Learned
We had a FastPass for Mission:Space. I really didn't know anything about it, but I could get a fastpass, so I figured we should check it out. There were two paths – orange or green? Green doesn't spin, orange does. I immediately knew which one I wanted! But, in fact, the decision was made for me – because of Keegan's size, he had to choose green. Thank goodness we did. Quote of the day from my four year old – "I liked it, but I thought I was going to die." 🤦‍♀️ Oops. Mom fail.
I did the easy version with him and I felt like it was a little rough and I was queasy. It's definitely also scary as you are being told you are about to crash – it all feels very real. So, maybe you don't want to traumatize your four-year-old, like I did.  He recovered quickly when I told him we were heading to the Aquarium. We spent the morning enjoying the Space, Land, and Seas area and then headed back to the World Showcase for a late lunch and snacks and to just leisurely walk around.
The pace at Epcot is definitely a little slower. We wandered around the different countries and enjoyed performances as we walked. We ate an amazing lunch at the Tangierine Cafe in Morocco. So good. I was easily able to eat an amazing gluten-free lunch and share it with my kids – the portions were huge.
Crepes for the kids from France were the dessert of choice for the afternoon. If I didn't have the four-year-old with me, I think I would have enjoyed exploring more. The stroller made it hard, to be honest. We left by 4:30 or so, but felt like we had a fun, full day.
Day Four: Animal Kingdom
For our last day in Orlando exploring Disney, we visited the Animal Kingdom. Finally, we had a warm day! This was the perfect park for a warm day and it was definitely busy, but it never felt too crowded.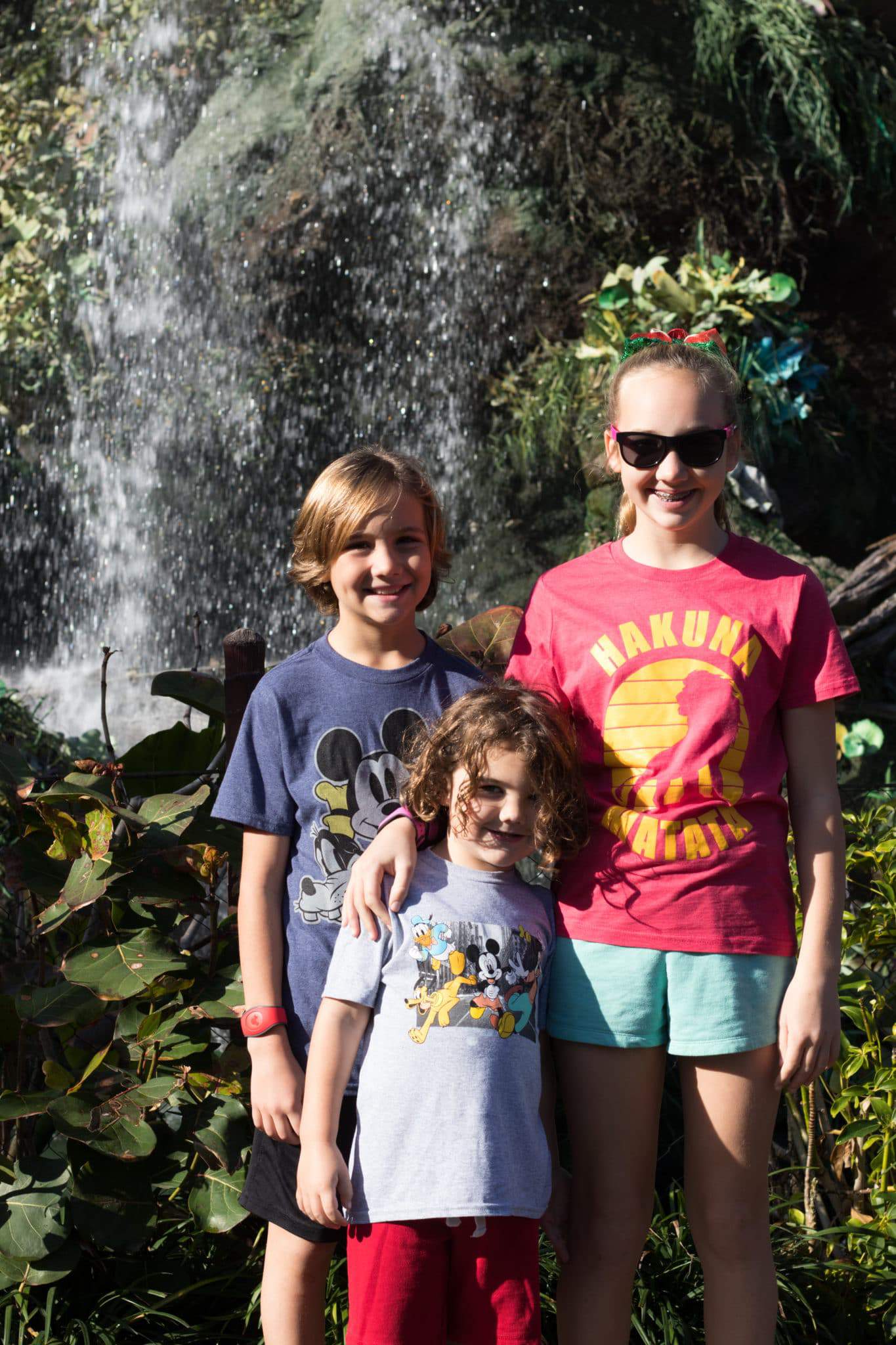 This wasn't my most successful day of last-minute planning, but my 9-year old says this was his favorite park. Animal Kingdom opened at 9 am and we should have been there at 8, but we didn't get there until 9. End of the week – we were all tired! Be prepared to be tired! As I was paying for parking, I asked the attendant if she felt the lot was already busy and should I pay for preferred parking? I said I was trying to avoid using the parking lot trams because my stroller is a pain to fold. This woman said – "Don't do preferred, it's still early, but I can give you a tag so you can park on the end closest to the walkway." Disney Magic! Yay! Perfect for me. That worked out great and it was only a few minutes walk to the entrance.
Check-in at 9 was frustrating and slow and I was mad at myself. For each park, there was one MUST-DO ride that was IMPOSSIBLE to get on without a Fastpass+ and we were three for three at the parks so far. Seven Dwarfs Mine Train at Magic Kingdom, Slinky Dog (AND Millennium Falcon) at Hollywood Studios, and Frozen in Epcot. For Animal Kingdom, we all desperately wanted to ride the Avatar ride. As we crawled through check-in just after 9am, we knew there was no way the Avatar ride was going to happen for us. Such a bummer. Lesson learned. On-time at Disney means an hour early!
Instead of Avatar, we headed directly to the River Ride after checking in and maybe waited 20 minutes – not a bad wait considering the wait it got up to (75-90 minutes!) as the day moved on. Everyone enjoyed it. We headed to DinoLand and did the Dinosaur ride – so fun! And then we walked right onto the little kids' flying dinosaur ride – Triceratop Spin. I felt like it was a little weird that you had to pay for arcade games in DinoLand so we did not hang around long. We refilled our popcorn bucket and headed out. In the morning, we were able to get Fastpasses for Everest and the River Rapids Ride in the afternoon so we planned to explore Animal Kingdom and walk through the different parts – Asia, Africa, and Discovery Island – before lunch.
In a moment of weakness, we decided to bite the bullet and get into the 90-minute line for the Safari. It was actually more than 90 minutes. We survived it. The kids loved the safari and it was about 20 minutes. Worth the wait. The bumpy safari ride was nothing but animals everywhere you looked. Well, hello, giraffe. This guy in the photo above was seriously following us.
After the Safari, We made a late lunch reservation at Tiffins. Great kids menu. Delicious allergy options for me. Highly recommend. My four year old just wanted soup. $4. Please, and thank you. It might seem fancy but, let's be honest, it's Disney. We are all at an amusement park! Come as you are, my friends. We enjoyed this lunch so much. The decor was pretty, the seats were so comfortable, and the food was delicious. Check it out. It was easy to get a lunch reservation on the app.
After lunch, we headed to Everest. The little guy was not tall enough for this ride – really, one of the very few rides he could not go on! I sent the two older ones on it. They LOVED it. I am sure this isn't allowed, but since Keegan wasn't tall enough to go and all four of us had Everest Fastpasses, I gave the kids our magic bands and they scanned in with our unused Fastpasses to do it again. 😬Don't tell. I considered it my own personal version of RIDER SWAP. My kids suckered me into doing the River Rapids Ride as our last thing of the day – after Mickey Ears ice cream for Keegan and Rory and a Dole Whip Float for Noelle. I was a little worried about getting wet on the River Rapids Ride – smart people were entering wearing ponchos – but Keegan was begging to go. We did not get that wet, but the other boats were not as lucky. It was the perfect way to end our day at Animal Kingdom and our last day at Disney!
So, all in all, I guess you can have a blast at Disney on 24 hours notice. 😜 Go for it, my fellow last-minute planners! I guarantee I will be (not) planning another fun trip to Disney World very soon!
I am definitely a last-minute planner! Here are a few of our other favorite trips … 
Visting St. Augustine, Florida With Kids
Barcelona With Kids: Food and Fun
Visit! Winston-Salem With Kids
Ireland With Kids: Food and Views