The best thing about pizza dough is that pizza dough isn't just for pizza. Did you know you can make gluten-free pizza dough pretzels from frozen pizza dough? Jump to Recipe
After you see this "recipe," you are going to stock your freezer with pizza dough balls.
If you have ever been to any mall in America, you have probably been lured by the smell of Auntie Anne's pretzels … confess. If you are gluten-free, this is a sad, sad smell. The twins and I gaze longingly at those shiny brown specimens, glistening with butter and generous flecks of coarse salt. Believe it or not, a similar pretzel is within your grasp – in under 30 minutes – I promise.
Step 1: Thaw Your Gluten-Free Pizza Dough
This recipe has a few key steps and each one is pretty easy. First, you need to thaw your frozen pizza dough overnight and then let it sit out on the counter for a bit. After it is soft and easy to work with, you will cut it into sections to roll out into thin strips.
Step 2: Roll Your Pizza Dough Into Long Strips
This is definitely a kid's task. We put a little bit of gluten-free flour on the pizza dough to prevent it from sticking and then let the kids roll out the sections evenly on a big cutting board or just on the counter. Then, I let them shape their sections into something that resembles a pretzel. Auntie Ann's isn't doing any quality control, so our standards for appropriate pretzel shapes are pretty low… I will suggest that the smaller, chubbier pretzels came out a little bit chewier and tastier after they were baked.
After shaping the pretzels, we placed them on a parchment-lined cookie sheet before we moved on to big step #3 – parboiling.
Step 3: Parboiling
The next step before baking the pretzels is to drop them in boiling water that has a couple of tablespoons of baking powder in it. This step is really quick and I even used a small, 2 1/2 quart pan to boil the water because I just dropped a couple of pretzels in at a time. Let the pretzels sit in the boiling water for about 45 seconds to a minute. If they don't float to the top, give them a little nudge with your strainer.
Step 4: Drain On Parchment Paper
After you remove them from the water, let the excess water drip back into the pan for a few seconds and then put them right back onto the parchment paper. Before baking them in a 400-degree oven, brush the warm, parboiled pretzels with butter and sprinkle with some coarse sea salt. This is another awesome step for little fingers. Literally, my kids rubbed the butter over the pretzels.
The final step is baking the pretzels. We baked ours for about 20 minutes at 400 degrees. If your pretzels are smaller, you might need less time. Keep an eye on them after about 16 or 17 minutes. These were such a tasty treat and absolutely perfect for back to school afternoon snacking. Enjoy!
Pizza Dough Pretzels Recipe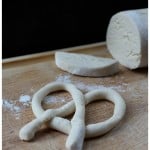 Gluten Free Pizza Dough Pretzels
Super easy snack! And kid friendly...
Ingredients
1

package frozen pizza dough

Gluten-free flour

2

tablespoons

baking powder

Butter

Coarse salt
Instructions
Thaw frozen pizza dough overnight and then let sit on the counter for about 20 to 30 minutes.

Preheat the oven to 400 degrees.

Cut pizza dough into sections. Roll on an even surface into a 14 to 16 inch tube-shaped strip.

Shape the rolled sections into pretzel shapes and place on parchment paper lined cookie sheet.

Bring a pot of water to boil. For every two quarts of water, use 2 tablespoons baking powder.

Drop two to three pretzels carefully into the boiling water and let sit for about 45 seconds to 1 minute.

If the pretzel doesn't float to the top, give it a little push with your strainer spoon.

Drain the pretzels one at a time over the pot to let any excess water drip off, then place carefully back onto parchment paper.

Using your fingers or a pastry brush, brush butter generously over the pretzels and sprinkle with coarse salt.

Bake for about 18 to 20 minutes until the pretzels are golden brown.
Recipe Notes
For dessert pretzels, after brushing with butter, sprinkle with cinnamon and sugar!
Some of our other favorite snacks …
Bacon-Wrapped Jalapeno Poppers
Patatas Bravas: A Taste of Spain