Vegetarian friends, raise your hand if you own a copy of the Moosewood Cookbook! Over 20 years ago, my friend gifted me a copy of the Moosewood Cookbook for my birthday and highlighted the Hungarian Mushroom Soup recipe as the first recipe I should make. I immediately fell in love with all the earthy flavors and the fact that this soup could be made VERY inexpensively and have some leftover. Win-win for me on a tiny grad school budget! Jump to Recipe
Moosewood Cookbook Lovers Unite!
This Hungarian Mushroom Soup is a classic Moosewood favorite. I made it for my kids last night because, wow, I'm running low on new ideas. 🤣🤣Quarantine cooking is not for the faint of heart. These kids eat SO MUCH FOOD. I love that the kids are making their own breakfasts and lunches, but every day, as dinner rolls around, I am grasping at straws.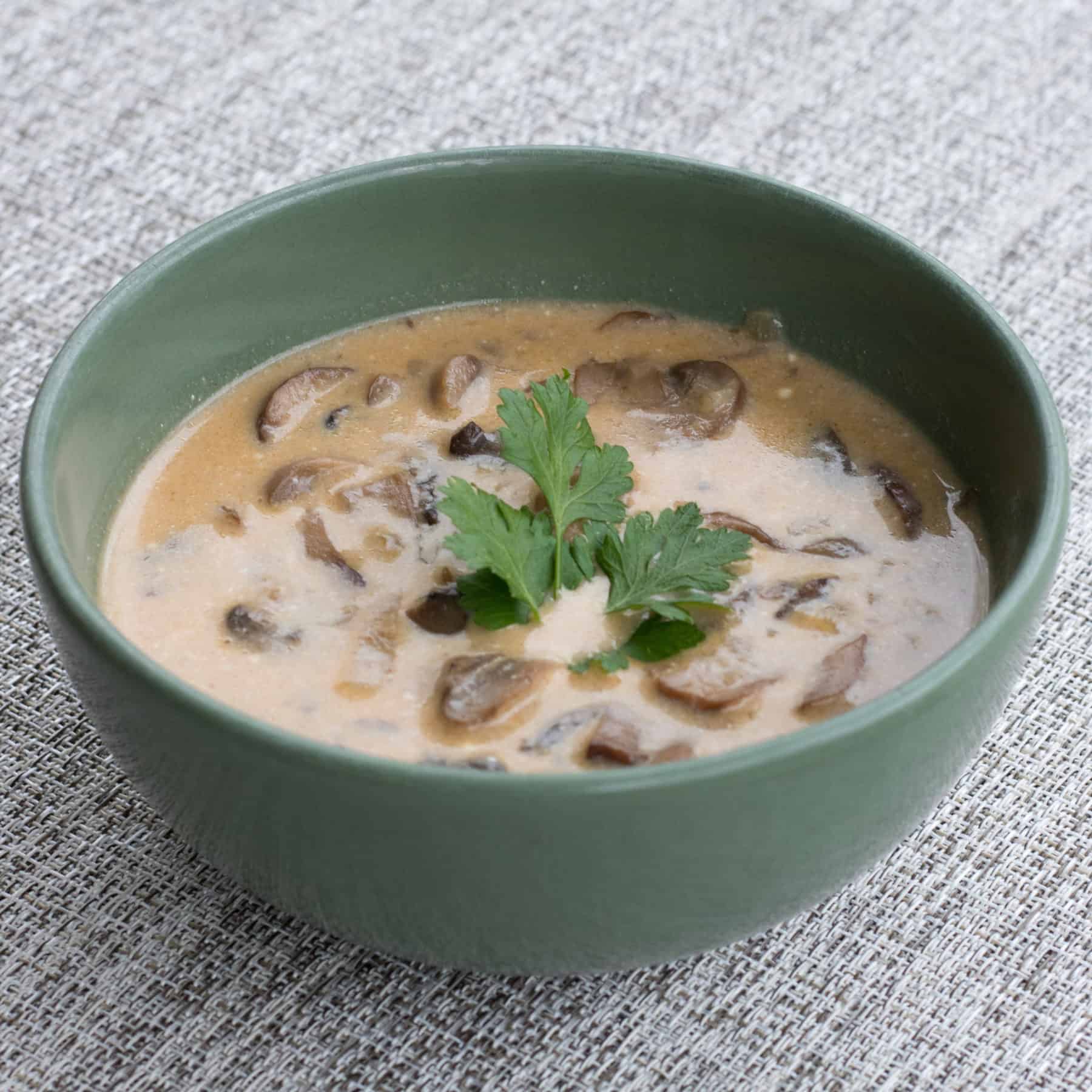 Quarantine Cooking Challenges 
I love to cook, but it is different cooking without being able to run out and grab a missing ingredient. If we don't have an ingredient on hand, too bad. When I was creating my online shopping list, I had to plan for this recipe. I never have 1 1/2 to 2 pounds of mushrooms hanging around. All of the other ingredients are pretty straightforward. This experience has been a good experience for me to practice meal planning.
Try Something New
This soup is not for everyone. None of my kids outright disliked the soup, but the kids were not begging me to make it again. My oldest – Quinn – loved this soup. Julia loved the broth. If your kids don't love mushrooms, this won't be the soup for them. 🍄 🍄The flavors are maybe a little mature for younger palates. My thought … more for you! Leftovers are delicious. 
Just A Few Steps 
Start with onions and mushrooms. A lot of mushrooms!
Add some flour – I use gluten-free and it works perfectly.
I used this sweet Paprika from Spain – but you can use something spicier!
You can use dried or fresh dill … I love to grow dill – it's hard to kill!
Moosewood Hungarian Mushroom Soup
Delicious, vegetarian soup for mushroom lovers!
Ingredients
2

T.

butter

2

C

chopped onion

1 1/2 to 2

lbs

sliced mushrooms

1

tsp

salt

2

T

fresh dill

1

T

paprika

2

tsp

lemon juice

3

T

flour

GF works!

2

c

water

1

c

milk

1/2

c

sour cream

Fresh parsley
Instructions
Melt butter in a large, heavy bottomed pot. Add onions. Sauté for about 5 minutes.

Add mushrooms, salt, dill, and paprika. Stir and cover. Cook for about 15 minutes. Stir occasionally. Add lemon juice.

Gradually add 1 tablespoon of flour at a time. Stir constantly. Cook another five minutes over medium-low heat.

Add milk. Stir slowly. Taste to see if you should add more salt and ground pepper.

Whisk in the sour cream. Keep the heat very low. If the heat is too high, the soup will curdle.

Serve hot. Top with fresh parsley if you have some on hand. Enjoy!
Other Favorite Soups 
Instant Pot Vietnamese Beef Pho