These two-ingredient gluten-free bagels have changed my life. Not exaggerating. I have made these multiple times since I first discovered this recipe in December and every time I am not sure how I existed without them. Even my gluten-eating children beg for these bagels. They are really that good.
Are Two-Ingredient Bagels Really Just Two Ingredients?
I have made these two-ingredient bagels with gluten-free Bisquick and I have made them with gluten-free all-purpose flour plus baking soda and salt. I have made these two-ingredient bagels with nonfat Greek yogurt (the recommended yogurt) and I have had to make do with other options. No matter what combination of ingredients, these bagels are always a hit. And, yes, if you have GF self-rising flour and nonfat Greek yogurt, these two-ingredient gluten-free bagels are *really* just two ingredients.
For Christmas morning, we made our traditional pancake breakfast, but we also made a bagel bar using these two-ingredient bagels. The bagel bar was such a hit, we did it again for New Year's morning after we did our polar plunge with friends. You cannot go wrong with these bagels! I always make the full recipe – 2 cups of flour to make 6 to 8 bagels – but if you only want 3 or 4 bagels, cut the recipe in half.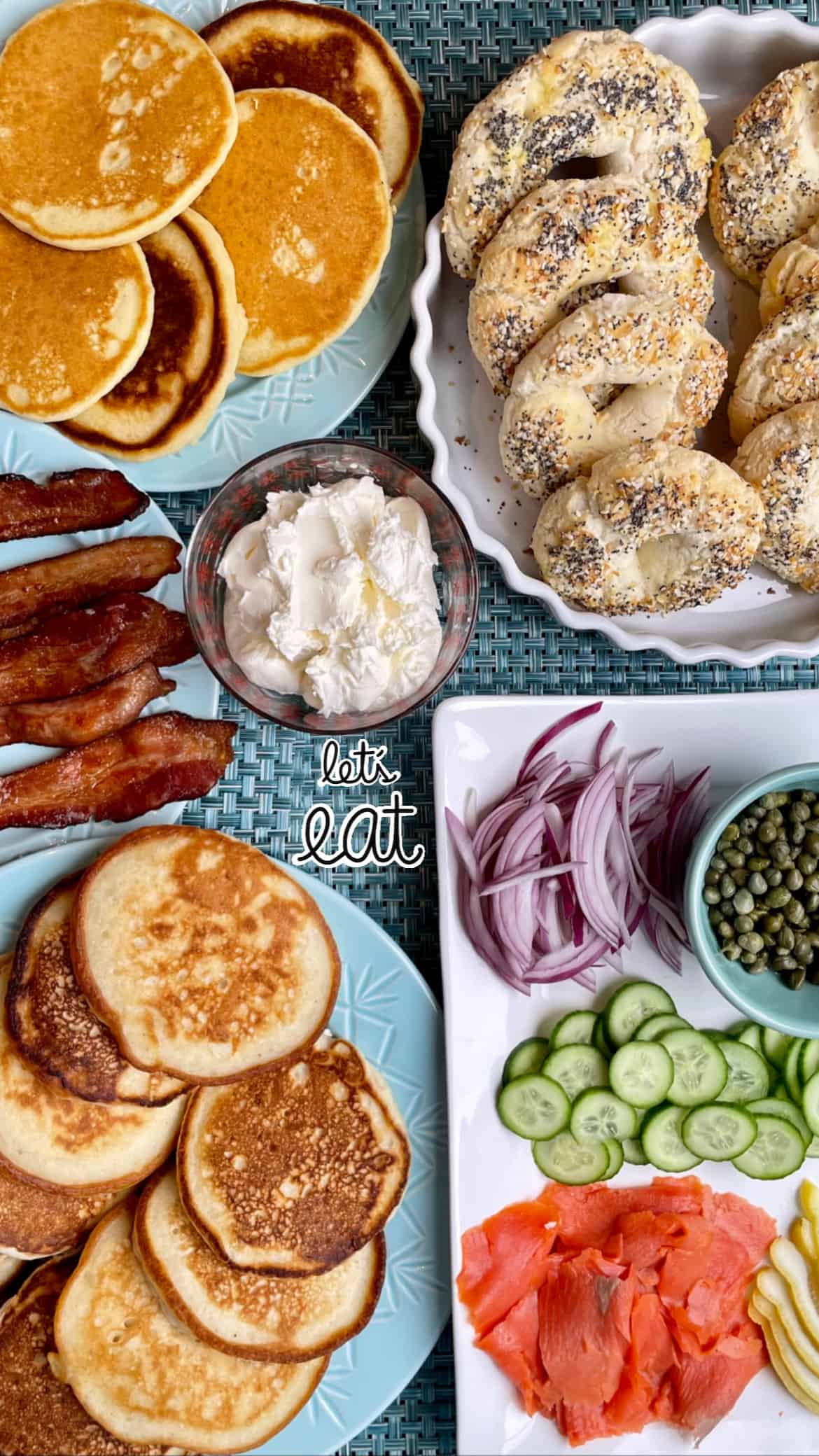 There isn't really a trick to these bagels. They have come out with different consistencies depending on what flour I have on hand, but they are always good. Really, is there such a thing as a bad homemade bagel? Nope.
Gluten-free Bisquick OR Make Your Own Self-Rising Flour
You always want to start with 2 cups of flour – if you have gluten-free Bisquick or self-rising flour, all you need to add to it is nonfat Greek yogurt. If you don't have gluten-free Bisquick, you will need to add 3 teaspoons of baking powder (not baking soda!) and 1 teaspoon of salt.
Nonfat Greek Yogurt – Essential Ingredient
After I have my flour, I add one cup of nonfat Greek yogurt to start. It needs to be Greek yogurt because you want the thickness of the yogurt. If it's not Greek yogurt, it's going to be too thin. That being said, I have made these with regular plain yogurt. The bagels aren't as light and delicious, but they are still delicious. I have made these bagels with a combination of 2% Greek yogurt and plain yogurt – I just used whatever I have in the house.
For the first time you make these, I highly recommend you use the nonfat Greek yogurt so you know what these will be in perfect conditions. The bagels below were made WITHOUT nonfat Greek yogurt – still delicious, but you can see that they are a little bit thinner and slightly more dry.
A few pro-tips to make two-ingredient gluten-free bagels… 
You will start with one cup of nonfat Greek yogurt and stir the flour and yogurt together to combine. Add more yogurt as needed and continue to stir. I use a sturdy spatula or a wooden spoon. You want to really stir well – almost kneading it together with a spoon. When the flour and yogurt come together as a large ball in the bottom of your bowl, you know you are ready to make the bagels.
Two cups of flour and about 2 cups of yogurt will make 6 to 8 bagels. I like to take a small ball of dough and roll the dough between my hands until it makes a thick rope of dough long enough to form into a bagel. You can also roll it on the silpat and then gently form it into a bagel shape. Use your fingers to smooth it out and connect the ends together. Your hands will get sticky so maybe make 2 or 3 bagels and then wash your hands to get the dough off your hands and then make the other bagels.
Egg Wash and Toppings … A Bonus, Not Essential
After all of your bagels have been formed, take one egg and whisk it to make an egg wash. Using a silicone brush, brush the tops of each bagel completely with egg wash. I love to top my bagels with Everything Bagel seasoning and crushed Himalayan pink salt. I put everything bagel seasoning and the salt in a small saucer and carefully place each bagel – top down – into the bagel seasoning and then carefully return the bagels to the baking sheet. You can top your bagels with nothing at all – it's totally up to you.
How To Bake Two-Ingredient Bagels
After your bagels are topped, they are ready to be baked. I like to bake mine at 375 for 25 minutes. Every oven might need a different amount of time. I have also read that you can cook your bagels for 20-25 minutes at 375 and then remove from the oven, turn the oven up to 500 degrees and then put the bagels back in the oven – close to the top – and cook for an additional 5 minutes at 500. It makes the bagels a little crispy on top. Sometimes we do that, sometimes I am too lazy and just want to eat.
What to Put On Two-Ingredient Bagels
Let the cooked bagels sit for about 10 to 15 minutes before you try to slice them. Slice and then top with anything! Simple, salted butter is one of my favorite weekday toppings. My kids love it when I whip together a bagel bar for them. We try to keep smoked salmon in the house all the time now. Crazy times. Capers, red onion, hard-boiled egg, avocado, sliced cucumbers, lemon slices, cream cheese … all good topping options!
It's time to make these bagels!
Other favorite breakfast and brunch recipes …
Browned Butter Banana Bread With Ginger and Pecans
Two-Ingredient Gluten-Free Bagel Recipe
Two Ingredient Gluten-Free Bagels
This recipe for 2 ingredient gluten-free bagels will change your life.
Ingredients
2

c

gluten-free Bisquick

2

c

nonfat Greek yogurt

1

egg

2

tbsp

Everything Bagel Seasoning
Instructions
Add nonfat Greek yogurt to 2 cups of flour, starting with just one cup of yogurt.

Stir yogurt into the flour so the flour starts to pull together like a dough.

Add more yogurt until the flour and yogurt form a slightly sticky ball of dough - you might need all two cups of yogurt.

Separate out one handful of dough at a time - about 1/6 to 1/8 of the total amount of dough.

Roll the ball of dough in your hands or on a silpat liner to make a fat column of dough that can be shaped into a circle. Use your fingers to smooth together the ends and the bagel itself. Place on a silpat liner and make your next bagel.

If your hands get too sticky, clean them and start over with dry hands after making a few bagels. You can also add a little bit of flour to your hands to help with the stickiness.

Cook at 375 degrees for 25 minutes.

Remove from oven and raise the temperature to 500 degrees. Put the bagels back in the oven for five more minutes.

Remove from the oven and let sit for 10 to 15 minutes before you try to slice them.